What We Do
Home Theatre & Media Rooms
Home Theatre & Media Rooms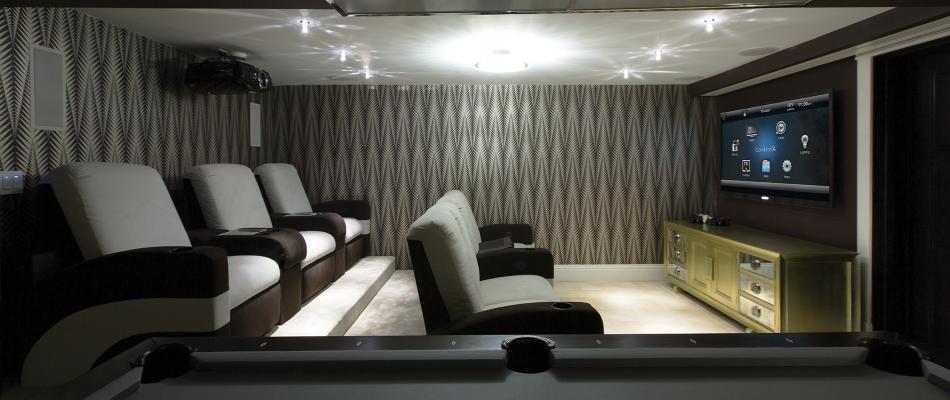 Experience The Thrill!
Audio Video Unlimited in Leduc is your Home Theatre specialty store. We've designed a wide variety of surround sound / home theatre packages for almost every budget. Each layout represents the very best value given the clients parameters. We are specialists in integrating and installing projectors, components, loudspeakers, furniture and even automated lighting. We plan ahead to maximize your enjoyment, integrate into your decor and to truly blend all technologies into perfect harmony.
What is the difference between a Media Room, a Home Theatre or a Home Cinema?
Media Rooms:
Media Rooms are modern updates of what many of us growing up called the "rec-room." Typically, this room will have a television with various sources, such as cable, satellite, DVD players or other media players; connected to an audio system, stereo or surround sound. Most homeowners now add an internet connection, which allows gaming and viewing of Internet based movie & music services.

Home Theatre:
Home Theater has become the "must have" of the 21st Century home. Here, a large screen display, typically +50", is the centerpiece. It is connected to a high performance audio system with multi-channel surround sound including Dolby ATMOS for advanced systems.
Remember, our mandate is always ULTRA easy control. We offer a variety of one-touch controller solutions that truly put you in control. AVU provides a clean solution eliminating "coffee table clutter" from multiple remotes and provides simple and intuitive operation.
Home Cinema:
Home cinema is for those seeking, not just to replicate the sound and picture of a fine commercial cinema, but to exceed it. A Home cinema makes a big difference in the way you experience movies, television, sports and gaming. Thanks to a massive picture, usually +100" and super high fidelity audio, you can literally feel the action!
Whichever size or setup you desire, contact Audio Video Unlimited for EXPERT ADVICE, equipment and design services.
Our home cinema experience center is where you'll uncover various ways to integrate a state-of-the-art Cinema it into your home.